Ella Baché: BOLD Women - Gail Elliott
Gail Elliott has worked alongside the most incredibly talented names in fashion, photography, magazines and stylists in an international career that spanned more than 24 years. As a former model Gail, alongside other girls like Yasmin Le Bon, broke the mould of international modelling as the first supermodels to appear on the catwalk in the famous Gianni Versace runway show to George Michaels' "Freedom" which would go onto entirely change the modelling world forever.
Here we sit down with Gail to talk about her amazing career journey from the 13-year-old fashion obsessed Londoner, to a leading New York based fashion model in the late 80's and 90's during the glamourous, exciting and fun era of the "Supermodel" to Creative Director and Designer of her own successful fashion label Little Joe Woman. Gail has made many BOLD moves along the way and can guarantee you her story is nothing short of inspiring.
"Being in the modelling industry takes a lot of courage to make it a successful career. You're told you're too fat or too thin, too tall, too short, too well know or not well known enough. It can be lonely when you're constantly flying from location to location, year after year, season after season but it's also an amazing experience when you travel to the most beautiful places in the world and meet the most interesting and talented people in the business.
My first 'bold move' which I didn't realise at the time, was leaving home at 17 years of age to live and model in Japan. I used to take ballet classes as a child and grew too tall to continue so my instructor suggested because of my height and slim build that I meet with a model agent. A few weeks later I was on a plane to Tokyo for a 2 month contract which turned out quite disastrous – I ended up working very long hours and not earning what I expected to earn. Once my contract ended, I changed agents in Tokyo, negotiated a contract that suited me and ended up staying in Tokyo for two years. From there at 19 years of age I moved to New York with a full modelling portfolio and started working almost immediately. I continued to live and work in New York for 24 years and that's where I married my Australian husband.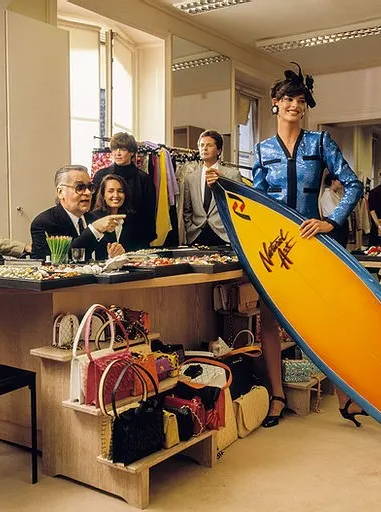 Gail Elliott at Chanel Fitting with
Karl Lagerfeld & Linda Evangelista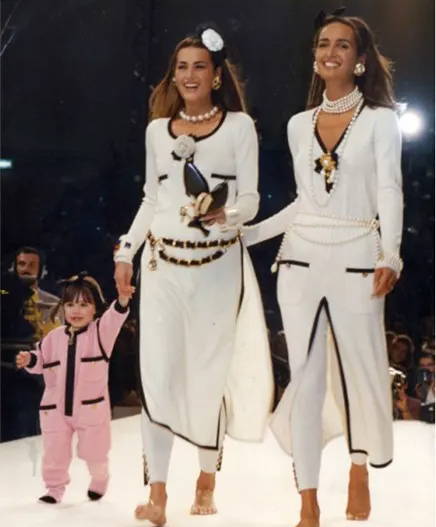 Gail Elliott on Chanel Runway with Yasmin Le Bon
From there we moved to Sydney for a few years and seven years ago moved to beautiful Bali where we produce all our collections for our Little Joe Woman clothing line. Starting my own label and business came from my desire to express my learnings and feelings creatively and that's when I decided to start our women's clothing brand Little Joe Woman by Gail Elliott. My first designs were very simple and consisted of six silk slip dresses and six silk camisoles in six colours - pieces I wanted to wear but couldn't find in stores. I loved the vintage slip dress look but the fabrics and fit were never good so I created my own.
Our dream to have a successful fashion business has become a reality through some good decisions, many mistakes and a lot of hard work. We feel very grateful to have created and own an established, luxurious, contemporary womenswear fashion brand designing and producing clothing that makes women look beautiful and feel confident about themselves.
Being true to the brand and being personal with customers is an extremely important part of the brand which for us makes ours stand out from others. I personally deal with all customer service and customers can contact me anytime.
Living a bold life is being strong, making your own decisions and having a point of view. I have always stayed true to myself, trusted my gut and stayed focused on what I was trying to achieve. I no longer try to be a superwoman but I do try to do the absolute best I can. I try to present my best self but also feel it's okay to be vulnerable. For me it's about finding balance.