25 iconic moments from 25 years of Australian Fashion Week - Vogue Australia / LITTLE JOE WOMAN by Gail Elliott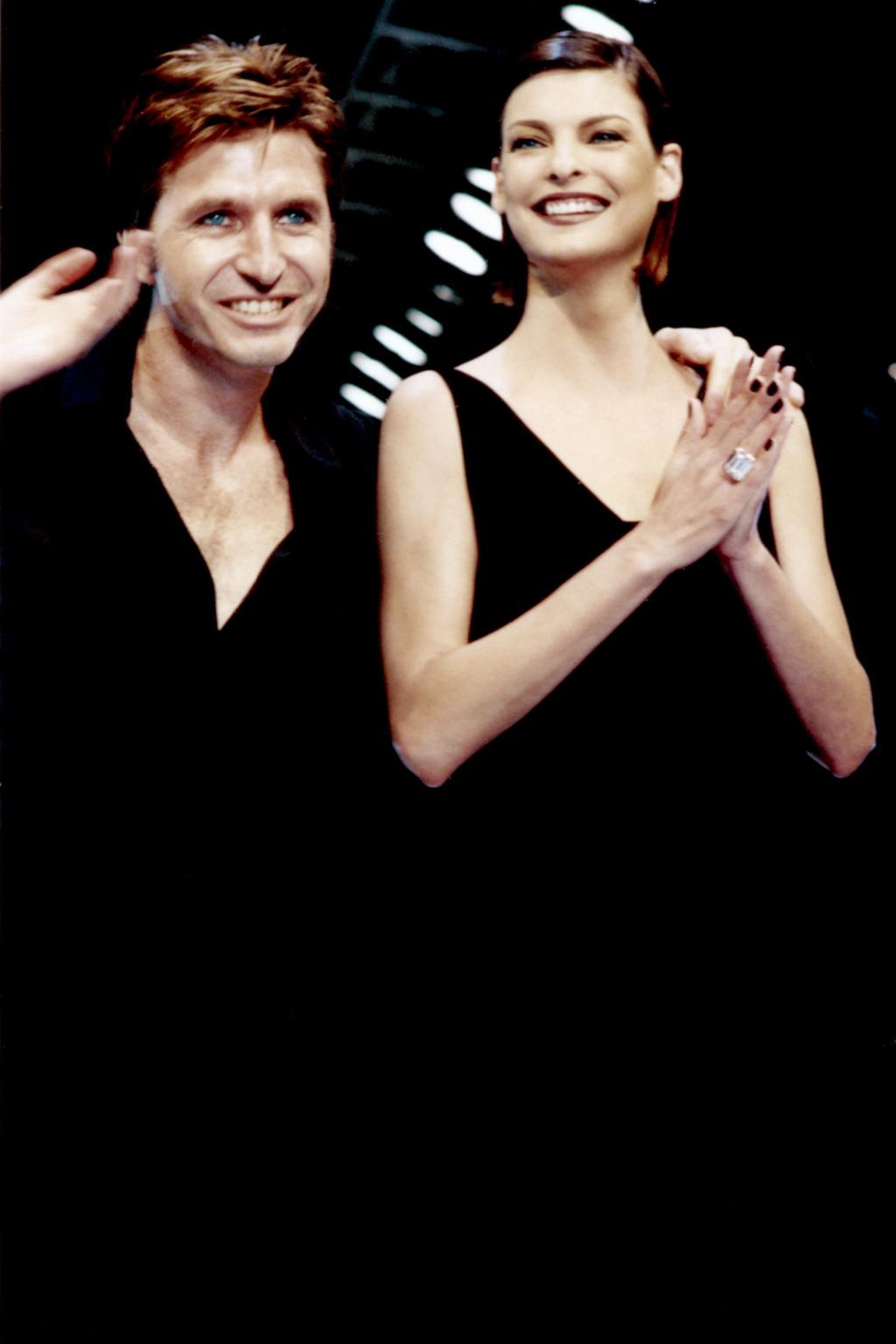 Wayne Cooper and Linda Evangelista at Australian Fashion Week, 1997.
Everyone who is backstage at a fashion week show has a job to do. There is the designer, the stylist, the hair and make-up artists, the assistants, the producers, the publicists, the models, the volunteers, the photographers and the select media afforded a pre-show sneak peek. It's a buzzing mix of nerves, excitement, stress, disasters, laughter and sometimes tears. It's the culmination of months of preparation by a designer and as the minutes count down to showtime, the designer, stylist, hair and make-up artists all make their final touches as the models take their positions in the final lineup. The cameras flash, photographers capture the moments, the energy levels are through the roof, the music starts, the show caller counts down "three, two, one" …. and the show begins.
Gemma Ward backstage at Australian Fashion Week, 2000.
Sonny Vandevelde is a familiar face backstage at Australian Fashion Week. Having photographed the very first event 25 years ago—missing only one or two up until now—so who better for Vogue to turn to for some iconic backstage moments. 
Pania Rose backstage at Michelle Jank, 2008.
"I shot the very first one, when it was set up next to the Hordern Pavillion in a big white tent. Turns out it was used in the Falklands war as a makeshift hospital, which the organiser somehow got their hands on—remember, this is pre-eBay days, so it wasn't like they stumbled on a 'For sale, one big hospital tent' on eBay," Vandevelde tells Vogue.
Annika Speakman backstage at Camilla and Marc, 2006.
Vandevelde started shooting Australian Fashion Week as part of special coverage for magazines in Australia, his career took him all around the world shooting across all of the major fashion week destinations, making him a fixture on the circuit. Before Covid-19 hit, Vandevelde was in Europe. "The last show I shot this year [was] for a designer, and that was Stella McCartney in Paris," he says.
Cheyenne Tozzi backstage at Collette Dinnigan, 2007.
Despite travelling the globe and being enlisted by some of the top designers—including Givenchy, Sacai and Giambattista Valli—to photograph their collections backstage at fashion weeks, Vandevelde admits the homegrown event is important, and has "that little bit more of a sense of freedom and energy, and the models are generally in a better mood as well. And I love Australia so I love to see Australians do well, and Australian Fashion Week is like a springboard to the overseas markets and shows."
Backstage at Romance Was Born, 2012.
With his trademark humour, infectious personality and genuine interest in everyone and every part of the process, it's no surprise Vandevelde captures the best backstage photographs. The photographer tells Vogue that the best part of his job is "the energy, the excitement, and being there to witness firsthand a designer's new collection, or witnessing new talent."
Backstage at Akira, 2012.
When asked what the worst part of the job is, Vandevelde says "the waiting sometimes can be a little annoying, but I'm not complaining." Backstage at a fashion show, time seems to go inevitably faster, and become a bit more complicated in the age of social media. "In the past it was easier, I would wait for the hair and/or make-up artist to finish touching up a model, and then I would take some photos," he says. "Now I have to also wait for these artists once they finish their touch up to take a photo on their iPhone as well, so that's another minute, and when you have 35 models in a show, that's an extra 35 minutes I do not have."
Backstage at Azzollini, 2007.
Vandevelde's secret to capturing the best backstage imagery is simple: "courtesy and respect. These girls [and boys] have it tough sometimes, and demanding to take a photo of them isn't going to get you anywhere. There are so many photos I did not take, because it would have been inappropriate or invasive. I guess some models and production teams notice that, so when the moment is right, they will give me that little extra for the photo."
Chrystele Saint Louis Augustin backstage at Collette Dinnigan, 1997.
Covid-19 has surfaced many questions around the future of the fashion industry. For Vandevelde, who is an avid surfer and lover of the outdoors, "there was already this momentum building around the theme of sustainability, let's hope that will become a bigger focus now," he tells Vogue. 
Backstage at Alice McCall, 2016.
Scroll on to see more of Sonny Vandevelde's images from Australian Fashion Week over the past 25 years.
Backstage at Ellery, 2015.
Aurelio Costarella and Mink backstage at Aurelio Costarella, 2001.
Pania Rose backstage Zimmermann, 2008.
Backstage at Camilla, 2016.
Backstage at Marnie Skillings, 2007.
Backstage at Josh Goot, 2011.
Tiah Eckhardt backstage at St. Augustine Academy, 2011.
Louise Van De Vorst backstage at Therese Rawsthorne, 2011.
Tanja Gacic backstage at Paablo Nevada, 2011.
Backstage at Dion Lee, 2011.
Backstage at Di$count Universe, 2014.
Backstage at Gary Bigeni, 2011.
Sophie Ward backstage at Toni Maticevski, 2006.
Backstage at Little Joe Woman by Gail Elliott, 2006.
Backstage at Sass & Bide, 2008.
Source : www.vogue.com.au/fashion/news/25-iconic-moments-from-25-years-of-australian-fashion-week/image-gallery/c1ce430d4980d86ab7d892d2636cd008